Whether we like it or not, Prince Edward Island is in the centre of an important and controversial food fight. It's home to the production of a genetically altered salmon that could be the first GMO animal allowed for sale to humans. And at the University of Prince Edward Island, a well respected fish virologist, Fred Kibenge, is under fire for test results indicating the presence of a deadly virus that's never been found in west coast wild salmon or British Columbia salmon fish farms before. If the results hold up it's a serious threat to these fish farms, and would support the position of those opposed to fish farming, that they endanger wild salmon populations. The Canadian Food Inspection Agency, and the B.C. fish farming industry claim Kiebnge's results are wrong. An international fish health organization is investigating and is expected to issue its results early next year.
The GMO salmon was created by a company called Aquabounty. It's had a series of owners over the years including a wealthy Eastern European engineer from Georgia, and currently by a U.S. company called Intrexon said to be interested in synthetic biology. Aquabounty owns a small facility in Fortune in Eastern PEI, that produces eggs from salmon that are a little different than what you'd find in the wild.It's an atlantic salmon that's been engineered to include a growth hormone from another salmon, and another gene from an ocean pout that allows the fish to eat and grow year long. In the wild the fish stop eating for a few months every year. The end result: a market weight salmon in half the time it would normally take, and lower costs for fish farmers. And its promoters have pushed one more advantage: the cheaper costs allow the salmon to be raised on land, in indoor tanks, possibly cutting the need for drugs, and certainly lowering the risk of diseases spreading to wild stocks. The plan is to produce the eggs on PEI, send them to Panama to be grown out, and then shipped to the U.S. for sale. For its part PEI's bays and estuaries are too shallow to allow for large scale open-water fish farming, but there are a few small-scale in-land tank operations producing halibut, trout, char.
It turns out that in-land production is just what a Scottish fish farming business is planning on doing, but on a much, much larger scale. No mention of using the GM salmon, but a serious attempt at producing much needed protein using renewable energy, it's own feed source (not the tons of reef fish now used to grow farmed salmon), and recycling water. Too good to be true? Probably, but you can imagine if the GM salmon is approved in the U.S., and if consumers can be convinced to eat it, it won't be long before it becomes the fish of choice at the inland facilities.
Part of me wants to say this is just wrong-headed, but then there was a further piece about the world's food supply not keeping up with growing demand. Starvation still stalks the world's poor. Farmed salmon obviously isn't the answer. but protecting oceans from further degradation, finding other protein sources for fish feed, properly handling fish waste, etc. could help. People have made quite a mess of things, and there aren't easy answers.
And just to complicate things even more a fourth item on genetic engineering gone wrong, the misplaced effort to create crops that can tolerate a popular herbicide (our old pal Monsanto, and its glyphophate product round-up) has led to overall increase in the use of herbicides in many crops. It's the unintended consequences that always get you, although a high school biology course could have predicted what's happened here.
http://www.nytimes.com/2012/12/22/business/gene-altered-fish-moves-closer-to-federal-approval.html?hpw
Engineered Fish Moves a Step Closer to Approval
Government regulators moved a big step closer on Friday to allowing the first genetically engineered animal — a fast-growing
salmon
— to enter the nation's food supply.
The
Food and Drug Administration
said it had concluded that the salmon would have "no significant impact" on the environment. The agency also said the salmon was "as safe as food from conventional Atlantic salmon." While the agency's
draft environmental assessment
will be open to public comment for 60 days, it seems likely that the salmon will be approved, though that could still be months away.
The environmental assessment is dated May 4. It is unclear why it took until now for it to be released, but supporters of the salmon say they believe it is because the Obama administration was afraid of an unfavorable consumer reaction before the election in November.
Environmental and consumer groups quickly criticized the federal agency's conclusions.
"The G.E. salmon has no socially redeeming value," Andrew Kimbrell, executive director of the Center for
Food Safety
, a Washington advocacy group opposed to farm biotechnology, said in a statement. "It's bad for the consumer, bad for the salmon industry and bad for the environment. F.D.A.'s decision is premature and misguided."
But the decision was long in coming. AquaBounty Technologies, the company that developed the salmon, has been trying to win approval for more than a decade.
"We're encouraged by this," Ronald Stotish, the chief executive of AquaBounty, said on Friday. However, he added, "We're not so foolish as to be wildly enthusiastic" that Friday's action will definitely lead to approval. Among other things, some members of Congress have tried to block the agency from approving the fish.
The AquAdvantage salmon, as it is called, is an Atlantic salmon that contains a
growth hormone
gene from the Chinook salmon and a genetic switch from the ocean pout, an eel-like creature. The switch keeps the gene on so that the salmon produces growth hormone year round, rather than only during warm weather. The fish reach market weight in about 18 months instead of three years.
The F.D.A. tentatively concluded in September 2010 that the salmon would be safe to eat and for the environment. A committee of outside advisers, while finding some shortcomings in the analysis, did not contradict those conclusions in general.
The agency then embarked on a more detailed environmental analysis that has now come to the same conclusions.
The main concern addressed was whether the genetically engineered salmon could escape and establish themselves in the wild, with detrimental environmental consequences. The larger salmon, for instance, could conceivably outcompete wild Atlantic salmon for food or mates.
The agency said the chance this would happen was "extremely remote." It said the salmon would be raised in inland tanks with multiple barriers to escape. Even if some fish did escape, the nearby bodies of water would be too hot or salty for their survival. And reproduction would be unlikely because the fish would be sterilized, though the sterilization technique is not foolproof.
The agency also said that approval of the salmon would have no effect on endangered species, including wild Atlantic salmon. The National Marine Fisheries Service and the Fish and Wildlife Service did not disagree.
AquaBounty produces its eggs at a facility in Prince Edward Island, Canada. The eggs are shipped to the highlands of Panama, where the fish are grown to market weight.
The federal agency said that other facilities for growing the salmon would require separate approvals. It also noted that it did not assess how the salmon would affect the environment in Panama and Canada, only in the United States.
Opponents said that the agency should do a more complete environmental impact statement. They also said that not enough samples were studied to conclude that the fish would be safe to eat.
Scientists and companies working on animal biotechnology had complained that the failure to approve the salmon was discouraging investment in the industry.
An
article in Slate
earlier this week said the White House had been delaying release of the environmental assessment for political reasons, violating the Obama administration's pledge to make decisions based on science. The environmental assessment was released soon afterward.
An agency spokesman declined to comment on the delay. He said it was not possible to predict when a final decision on the salmon would be made.
The F.D.A. is likely to take weeks or months to analyze the comments it receives. Even if it then affirms the conclusions released Friday, that would be a decision that a bigger environmental impact statement is not needed. The agency would still have to take a separate step to approve the salmon for introduction into the food supply, although it is thought there are no other important issues outstanding.
Mr. Stotish of AquaBounty said that if the approval came early next year, some salmon could reach American dinner plates late next year. But quantities would be limited by the small capacity in Panama. AquaBounty hopes to sell eggs to other fish farms that would grow larger quantities of salmon, but that is likely to take a few more years.
AquaBounty has argued that the faster growth of its fish makes it feasible to rear them in inland tanks rather than ocean pens, reducing the environmental impact. "That allows us not to disturb the oceans whatsoever," said Elliot Entis, the founder of AquaBounty.
Mr. Entis, who no longer works for the company, has formed a new company to rear the salmon in the United States.
AquaBounty, which is based in Maynard, Mass., nearly ran out of money waiting for the salmon to be approved.
Kakha Bendukidze, an investor from the nation of Georgia who owned nearly half the company's stock, sold his holdings in October to Intrexon, an American company. Intrexon, which is offering to buy the rest of AquaBounty, is providing it with a $500,000 loan.
Intrexon is working on synthetic biology, which is sort of a souped-up form of genetic engineering. It is not clear yet how it plans to apply that technology to AquaBounty's fish.
http://www.guardian.co.uk/environment/2012/dec/17/scottish-salmon-fishing?INTCMP=SRCH
Could Scottish salmon farming be transformed by moving to dry land?
Fishfrom plans to farm salmon untainted by chemicals and sea lice in a Kintyre facility run on renewable electricity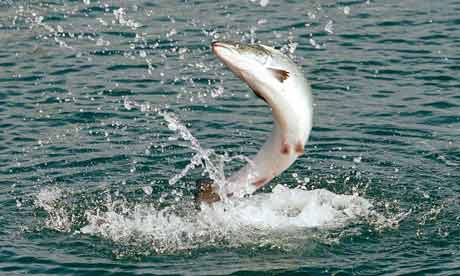 Scottish salmon is facing a challenge to its reputation as one of Britain's best loved everyday luxuries, with scares over diseases and sea lice,
heavy use of pesticides
and
seal killing
raising fears about its environmental impact.
A new fish-
farming
company called
Fishfrom
believes it can help solve the industry's problem, and even partly solve future crises over
food
shortages. Its answer: take salmon farming entirely out of the sea.
It is planning to build a vast new warehouse on the west coast of
Scotland
where it hopes to farm salmon on dry land, cultivating thousands of tonnes of fresh salmon untainted by chemicals, sea lice and seal-control, in a self-contained facility run on renewable electricity.
That factory, at Tayinloan, just opposite the Hebridean island of Gigha, will be powered largely by solar panels and a small hydro scheme nearby, feed its salmon on its own supply of a specially farmed marine animal called ragworm, and will recycle nearly all the water it needs onsite.
"It does hit all the right parts of sustainable nutrition, grown by authenticated methods. We know that they work," said Andrew Robertson, the firm's director.
"Closed containment has got to the point where we can deliver a robust business model and it will be energy efficient. But most important, it'll deliver a fantastic product in a short period of time, with a minimal footprint compared to conventional aquaculture."
The firm argues that using farmed
ragworm
, a burrowing creature which is abundant in estuaries and mudbanks, will save the wild sand eels, anchovies and other fish currently used to feed conventional salmon farms from damaging exploitation. Even the factory's waste could eventually be used to make power.
Fishform plans to ship out 800,000 salmon a year from that single site, supplying retailers such as Marks and Spencer, Waitrose, Youngs Seafood and in France, Carrefour and Auchain. It already supplies Heston Blumenthal's Michelin-starred restaurant in Berkshire, the Fat Duck, with farmed trout fed on its inhouse fishfood.
Eventually, says Fishfrom, it hopes to open a vast farm four times that size nearby on the tip of Kintyre on the former RAF air base at Machrihanish and then a further plant at Port Talbot in Wales, next door to the fishfarm where it grows the ragworm. It claims its purpose-built "kits" can be built anywhere with the right supplies available, and is in talks with buyers in New Zealand, north America and Romania.
Fish are already being farmed in other "closed containment" facilities in Spain, Denmark, the Netherlands, Ireland, north America and China. They produce sea bass, catfish, and Atlantic salmon. There is a 1,000-tonne salmon farm recently opened in Denmark, and two more of a similar size being built in China. But nothing, say Fishfrom, on this scale.
It has huge ambitions: if all those factories opened, it would end up producing up to a tenth of the UK's farmed salmon, which stands at about 158,000 tonnes a year.
Fishform will file its first planning application to Argyll and Bute council in January, and hopes to begin production in 2014. And it is optimistic of success. "The council loves the idea, for so many different reasons but fundamentally jobs," Robertson said.
To ensure its fish are disease free, the infant salmon, called smolts, will be raised and screened on site. The maturing and adult fish will swim in interconnected circular ponds where a form of whirlpool will form a current to swim against.
Its proposals are being treated warily by the conservationists who are harrying the conventional offshore salmon farming industry over its impact on the marine environment.
The
conservation
movement has seen such hopes raised before: attempts in Shetland to farm organic cod – its future in the North Sea endangered by over-
fishing
– collapsed. Efforts to create much hardier GM salmon have so far failed.
Piers Hart, an aquaculture specialist with WWF UK, said these plants, which rely on pumps, filters and monitoring equipment, were expensive to build and to run. The Tayinloan factory will pump 32m litres of water an hour round the tanks.
"This is not necessarily a silver bullet," Hart said. "It is not going to solve all our problems and it has its own problems. This is new technology and its potentially exciting but we do need to be careful until it's actually put into practice."
Fishfrom's proposals for its first factory at Tayinloan will face close scrutiny.
It plans to build on the derelict site of a previous but failed attempt to farm fish on land in the 1970s, using a much cruder technique. But the new factory will be 12 metres high and 160m long – similar in scale to an Amazon or Tesco distribution centre.
It is also right on the boundary of one of Scotland's most important sites for migrating geese, a heavily protected site of special scientific interest for Greenland white-fronted geese, and it borders a popular coastal path, promoted to tourists and walkers.
There may be concerns too about the welfare of Fishfrom's salmon. There will be up to 200,000 fish being farmed each time. To ensure it is economic, the vast indoor tanks of water will see stocking densities up to double that of conventional fishfarms: it will be at least 50kg of fish per square metre compared to 22kg of fish per square metre at sea.
But Robertson believes his fish will be far less stressed than those in outdoor cages: their ponds are interconnected, allowing the salmon to swim longer distances, and they will be free from parasites, diseases and the stresses of seal attacks. So, he adds, far fewer will die during production.
"The agencies involved in food production wouldn't accuse us of battery fish-farming here," he said. "What we know more than anything else, working through all the research we've done, is that the mortality rates of the fish are extremely low. All our fish will be kept in stress-free environments."
His firm is in talks with the Freedom Foods animal welfare scheme run by the Royal Society for the Prevention of Cruelty to
Animals
, to see if its strict definitions can be widened to include closed-containment cultivation. Robertson must now wait until May 2013, before he knows whether his scheme will get the green light.
http://www.theglobeandmail.com/commentary/the-new-famine-is-a-crisis-of-undersupply/article6647722/
The new famine is a crisis of undersupply
DOUG SAUNDERS
As we prepare to feast, let's pay the customary moment's attention, and maybe a somewhat longer period of serious thought, to those who won't be eating enough.
How many? By the most recent estimate of the UN Food and Agriculture Organization, there are now 870 million people living in "chronic undernourishment." Almost half of them are children, for whom hunger is deadly: A third of all child deaths are caused directly by malnourishment. Some 10 million people, mostly children, died of hunger in 2012.
This year has been a bad one: An abbreviated monsoon in India has left crops dying; poor rainfall in South America has slashed yields; soybean and grain output in Asia have been cut in half; a drought in the U.S. has dropped its corn reserves to a fifth of their normal level.
This has set international food prices soaring – 7 per cent higher than last year, and grain 12 per cent higher, close to the 2008 historic peak – and left even more people hungry.
How can this be? After all, it's not as if people are becoming more vulnerable. The UN's first Millennium Development Goal – to halve the number of people in the world living in absolute poverty by 2015 – was accomplished ahead of schedule, four years ago.
But the second half of that goal – to halve the number suffering from malnourishment by 2015 – is nowhere near being met. There are still millions of underweight children and weak adults, most of them in sub-Saharan Africa, Southeast Asia and some corners of the Indian subcontinent.
Is this a catastrophe of the sort that took place a generation ago, when mass famines in the 1950s, 1960s and early 1970s killed hundreds of thousands of people at a time? No. This time around, the cause is much simpler, and the solution much more readily at hand. We're experiencing a basic crisis of undersupply: After three decades of worldwide food surpluses, starting in 2008, the world's farms have not produced enough food to meet demand.
People no longer doubt, as they did 40 years ago, that the world is capable of producing enough food for all of humanity, even if our numbers grow to nine billion. We know it can, and we know how to make it happen. Farms in Africa and the Indian subcontinent – where the land is fertile and the growing season long – should be producing much more food than their European counterparts. Instead, India produces half as much per hectare, and Africa hardly anything. They could easily feed the world.
This isn't hard to solve, and farmers know what's needed: better transport and market infrastructure, new seeds engineered for their climates and needs, an end to subsidies and trade barriers, a shift from survival-based to commercial farming practices. And these things are being done (in part because farming is suddenly profitable), albeit too slowly. This decade may well be remembered as the unfortunate gap between the first Green Revolution (which ended mass famines and widespread Asian starvation in the 1970s) and the second (which is poised to make even bigger changes in Africa and Asia). Until supply catches up to demand, we have a crisis.
What stands in the way, this time as last time, is misunderstanding. Aid organizations in the West and governments in the developing world, motivated by myths of village tranquillity, pay people to stay rural rather than to consolidate their holdings and modernize their farming. Too many people believe, falsely, that a shift to commercial agriculture means a shift to big or exploitative farms, rather than more income for small farmers. We allow superstitions about engineered crops to become progress-blocking policies. We let meaningless middle-class fetishes for "organic" or "local" foods pollute the debate, when what's needed is more protein, now.
Forty years ago, the same myths were popular. As the Nairobi-based crop researcher Alastair Orr writes in a new essay on the Green Revolution, there was a consensus among scientists and politicians in the 1970s and 1980s that the mass introduction of hybrid seeds and irrigation would benefit capitalists and destroy small farms, that expecting commercial farming to help the poor was "like expecting water to run uphill."
That's not what happened. Farms, he notes, became profitable but not big. Peasants benefited hugely from becoming productive farmers. Starvation became much less common. "The share of people living in poverty had fallen," he writes. "Water was running uphill."
Having more food is good for everyone. That simple idea, more than anything else, deserves a toast.
http://www.guardian.co.uk/environment/2012/dec/21/weeds-monsato-cant-beat?intcmp=122
Meet the weeds that Monsanto can't beat
Tom Philptt
Instead of the supposed revolution in agriculture that Monsato's GM seeds were meant to bring, the opposite effect has occurred – a rise in herbicide use
Dec. 21, 2012
When Monsanto revolutionised agriculture with a line of genetically engineered seeds, the promise was that the technology would lower herbicide use – because farmers would have to spray less. In fact, as Washington State University researcher Chuch Benbrook has shown, just the opposite happened.
Sixteen years on, Roundup (Monsanto's tradename for its glyphosate herbicide) has certainly killed lots of weeds. But the ones it has left standing are about as resistant to herbicide as the company's Roundup Ready crops, which are designed to survive repeated applications of the agribusiness giant's own Roundup herbicide.
For just one example, turn to Mississippi, where cotton, corn, and soy farmers have been using Roundup Ready seeds for years – and are now struggling to contain a new generation of super weeds, including a scourge of Italian ryegrass.
"Fight resistant weeds with fall, spring attack," declares a headline in Delta Farm Press, a farming trade magazine serving the Mississippi river delta. The article's author, a Mississippi State University employee, lays out the challenge:
In 2005, Italian ryegrass resistant to the commonly used herbicide glyphosate was first identified in the state. Since then, it has been found in 31 Mississippi counties and is widespread throughout the delta. This glyphosate-resistant weed emerges in the fall and grows throughout winter and early spring.
The solution: "Fall residual herbicide treatments followed by spring burn-down applications, where a non-selective herbicide is applied to fields before planting." Translation: to combat the plague of resistant Italian ryegrass, Mississippi's cotton farmers must hit their fields with a "residual" herbicide in the fall – meaning one that hangs around in soil long enough to kill ryegrass for a while, and then come back with yet another herbicide in the spring, to make sure the job has been done.
This multi-poison approach to weed control, apparently, is what passes for "integrated pest management" – purportedly a system of low-pesticide crop protection – these days.
The integrated pest management program we recommend uses fall residual herbicides to help reduce the overall population and numbers," [Mississippi State University extension professor Tom] Eubank said. "Fall tillage can also reduce weed numbers, but it is generally not as effective as residual herbicides. Producers should come back in the spring or late winter with an alternative herbicide program that attacks the plant using a different mode of action.
In lieu of crop rotation and biodiversity (the non-toxic way to control weeds), the MSU extension service promotes what the article calls a "diversified herbicide program". And thus we get a clear look at why, since the introduction of Roundup Ready seeds in the 1990s, herbicide use has spiked.